Dawn Dark Mountain ~ Dark Mountain Watercolors LLC
Native Woodland Watercolors and Prints
Oneida Nation of Wisconsin
ABOUT DAWN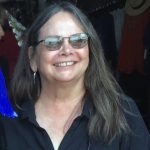 An interest in art since childhood led Dawn to study at the University of Wisconsin-Milwaukee and at the University of Arizona in Tucson where her emphasis was on watercolor. She graduated from the U of A with a Bachelor of Fine Arts and has taught art to both elementary and pre-school children.
After taking some time off to raise her two children, Dawn began creating her paintings and prints and exhibiting her work at art shows throughout the United States and Canada. She has been exhibiting her work for over 30 years.
Dawn has served as a board member of the Indian Arts and Crafts Association, the Oneida Nation Arts program, and as a board member and president of the Wisconsin Alliance of Artists and Craftspeople. She is a member of the Southwestern Association of Indian Arts and the Eldorado Arts and Crafts Association.
Dawn currently resides in Santa Fe, NM, having relocated from Wisconsin with her husband Keith. They are enjoying living in the Land of Enchantment.
AWARDS AND HONORS
---
Among the awards and honors Dawn has received are:
• A 2015 Eric and Barbara Dobkin Fellowship/Artist-in-Residency at the School for Advanced Research (SAR) in Santa Fe, NM
• At the SANTA FE INDIAN MARKET, Santa Fe, NM: 
 Dawn has received numerous awards during her 20+ years of exhibiting at Indian Market including a SWAIA Fellowship and First Place awards.
• At the EITELJORG MUSEUM INDIAN MARKET, Indianapolis, IN:
Many awards including several Best of Division and three RARE Fellowships (Reaching out to Artists in Residence at the Eiteljorg) at the Eiteljorg Museum of American Indians and Western Art.
• At the HEARD MUSEUM INDIAN MARKET, Phoenix, AZ:
First, Second and Judge's Choice awards.
• At the TESORO FOUNDATION INDIAN MARKET, Denver, CO:
Firsts, Seconds and Best of Show awards.
• At the INDIAN SUMMER FESTIVAL, Milwaukee, WI: Best of Show
• Designed a Pendleton blanket for the Oneida Nation of Wisconsin, "Land of the Oneida" in 2006 and a child-sized blanket for Pendleton in 2011 featuring the creation story image of "Sky Woman".
POSTERS
Dawn's work has been selected for posters for the Indian Summer Festival in Milwaukee, Wisconsin in 1991 and 2000, the Kituwah Celebration of Indian Art in Asheville, North Carolina in 2000, and the USDA Natural Resources Conservation Service American Indian Heritage Month in November, 2000. She also created a poster for the 1996 University of Wisconsin System Women's Studies Conference and its theme "Finding Common Ground".
CARDS AND BOOKS
Dawn publishes a series of cards, they feature images of her work with the story about the image on the back and are blank inside. Her work has also been on book covers in the United States and Italy.
Among the juried and invitational shows that Dawn has participated in are:
Santa Fe Indian Market, Santa Fe, New Mexico
; Heard Museum Indian Market, Phoenix, Arizona; 
the Trail of Tears show, Talequah, Oklahoma; Red Earth Indian Market, Oklahoma City, Oklahoma
; the Red Cloud Indian Art Show, Pine Ridge, South Dakota; 
Indian Summer Festival, Milwaukee, WI; Haskell Indian Market, Lawrence, KS; 
Eiteljorg Museum Indian Market, Indianapolis, Indiana; 
the Tesoro Foundation Indian Market, Denver, Colorado; 
Art Fair Off the Square and the Winter Art Festival, Madison, Wisconsin; 
Indian Market and National Pow Wow, Smithsonian National Museum of the American Indian in Washington D.C.