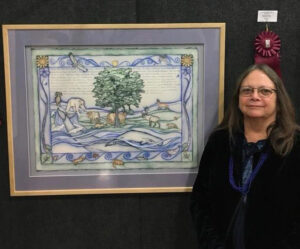 Dawn has exhibited her work all across the United States as well as appearing in international publications. Some of the images of work Dawn's award-winning artwork from public and private collections are shown here.
Please contact Dawn for original art currently available.
---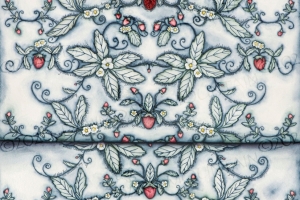 This series of four paintings, (now part of the permanent collection of contemporary Native American Art at the New York State Museum in Albany, NY), commemorates the Treaty of Canandaigua of 1794 that established peace and friendship between the young United States of America and the Six Nations. The Treaty also affirmed Haudenosaunee (Iroquois) land rights and recognized the sovereignty of the Six Nations to govern and set laws as individual nations. In recognition of this treaty, the US government continues to send a payment of Calico cloth to the Six Nations in New York as well as an annuity payment to the Oneida Nation of Wisconsin. Each piece in this four part series contains different words from the treaty and all contain the last line, "Done at Canandaigua, in the State of New York, in the eleventh day of November, in the year one thousand seven hundred and ninety-four. Each piece in the series contains a trompe l'oeil (fool the eye) fold as well as an actual fold in the paper to mimic the calico fabric. Each also contains an element of raised beadwork, the traditional beadwork of the Haudenosaunee people.
4 Photos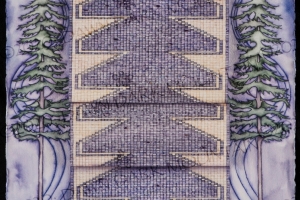 Dawn's creative process begins with gathering ideas and stories and developing a series of sketches that will eventually be put together in a full-sized drawing. This drawing will then be transferred to watercolor paper. Her actual painting begins with a series of layers of transparent watercolor washes.
4 Photos